Setting default browser in AmigaOS 4.1 for AMIStore Checkout
The default AmigaOS 4.1 installation is supplied with web browsers which do not currently meet the requirements of the AMIStore secure payment system. This short tutorial explains how to configure a recommended browser for use with the AMIStore Checkout when making a payment.


1. Download and install a compatible browser for AmigaOS 4.1. We recommend Odyssey Web Browser

2. Open Prefs drawer in your System partition by double-clicking on the icon as shown below:




3. Double-click on icon marked URL as shown below:




4. The URL Preferences application will open. Click on the HTTPS tab so it highlights blue.

5. Click on Add new client button and fill out the row of settings as shown below: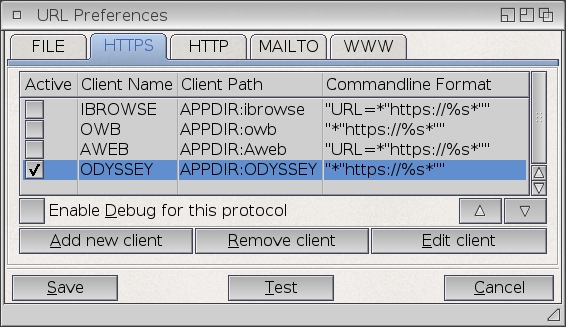 6. Click Save button to commit the changes.



When the AMIStore Checkout button is clicked and there is not sufficient balance on your user account to pay for the items in your shopping bag, a compatible web browser should now be opened permitting you to make payment for the contents of the shopping bag.


&copy 2015 A-EON Technology Ltd. All Rights Reserved.